The Knudsen Law Firm Health Care Practice Group represents and provides consultation services to several large health care entities, affiliated businesses, and medical professionals.
Long-Term Care: Nursing homes and assisted living facilities
Long-term care facilities face special challenges in today's highly complex regulatory environment. In addition to extensive experience litigating liability defense for nursing homes, the Knudsen Law Firm provides representation and assistance with state certification and survey concerns, Medicaid and Medicare compliance, guardianships and conservatorships, advance directives, collections, employment and personnel matters, and numerous other legal issues specific to providing long-term care services. The Knudsen Law Firm is a business associate member of the Nebraska Health Care Association/Nebraska Assisted Living Association. We are proud of this affiliation with the state's nursing home/assisted living associations and value our work with them to improve and promote long term care services for all Nebraskans. For more information on NHCA/NALA, visit www.nehca.org.
Licensure
Receiving notice of an investigation into your license can be a lonely terrifying experience. Licensure investigations can threaten the careers of health care professionals including nurses, physicians, physician assistants, dentists, physical therapists, nursing home administrators, licensed mental health practitioners, veterinarians, and others. Qualified legal consultation is critical when a medical professional first suspects an investigation may be accruing. The Knudsen Law Firm attorneys have the experience to assess and help you understand what exactly is going on, from the very beginning, and they will stay by your side advocating for the best possible result.
National Practitioner Data Bank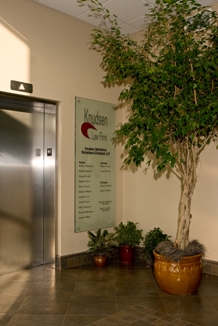 Certain medical professionals must be reported to the National Practitioner Data Bank upon the occurrence of specific events, such as when payment is made for a malpractice claim or when privileges at a hospital are relinquished during an investigation. Reports to the Data Bank are governed by the federal Health Care Quality Improvement Act (HCQIA). The Knudsen Law Firm Health Care Practice Group can help you challenge wrongful reports to the Data Bank.
Business Services
Health care organizations and medical professionals navigate complex business issues on a daily basis. The Knudsen Law Firm lawyers collaborate to provide the business services our health care clients need, including entity selection and formation, customized contractual alliances with providers and other organizations, due diligence, tax advice and tax-exempt entities, Stark laws, and financing. The Knudsen Law Firm lawyers can also assist with many ongoing operational concerns such as HIPAA, Medicaid, Medicare, and OSHA compliance to name a few. Legal assistance with human resources and personnel issues includes health care specific challenges relating to physician and provider recruitment and retention, compensation, guarantees and non-competition issues, requiring lawyers with mastery over the full range of health care business concerns.

Call 402-475-7011 or 800-714-3439 for an appointment.
Attorneys specializing in this area: