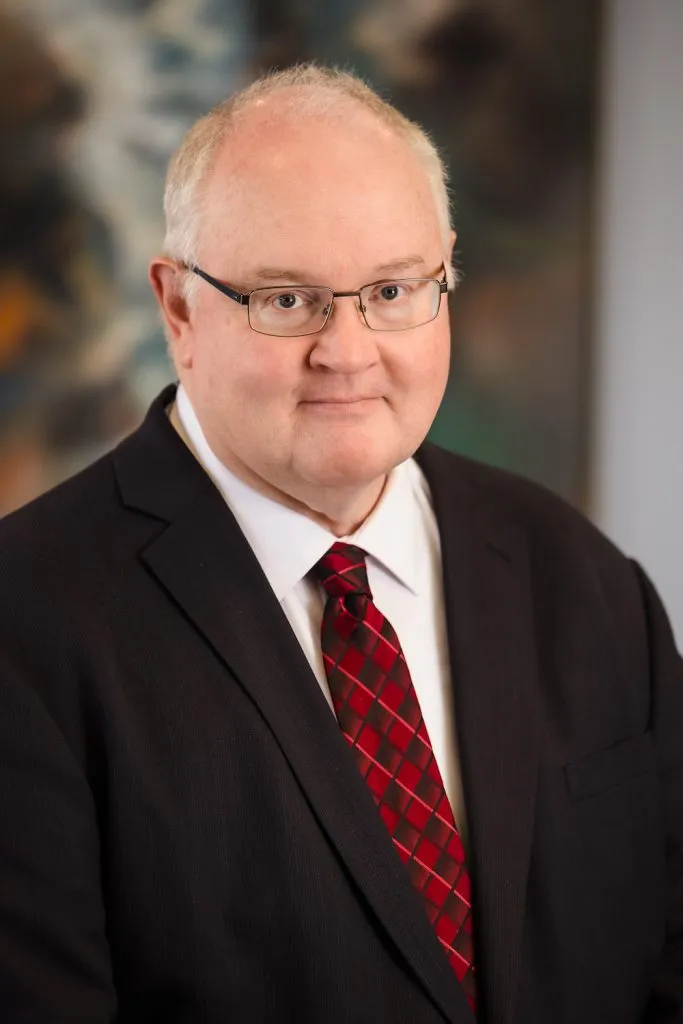 Practice Areas:  Agricultural law, Appellate Practice, Bankruptcy, Business and Commerce, Condemnation, Trademark and Copyright, Real Estate, Trial Advocacy
Trev E. Peterson is a life-long Lincoln resident. He joined the Knudsen Law Firm on his graduation from law school in 1981 and became a partner in 1986. Trev served as the firm's managing partner from 2002-2006 and on the firm's management committee for several terms, the most recent being from 2002 to date.
Trev is a fellow of the American College of Real Estate Lawyers; a fellow of the Litigation Counsel of America; was selected in 2007 as a Super Lawyer of the Great Plains; is a member of the American Bankruptcy Institute; and the American, Nebraska and Lincoln bar associations. He has served as president, vice president and secretary of the Bank Attorney's Section of the Nebraska State Bar Association, and is currently the vice president of the Bankruptcy Section of the Nebraska State Bar Association.
Trev obtained his juris doctorate degree from the University of Nebraska—Lincoln with high distinction in 1981. He was selected as a member of the Order of the Coif, a law school scholastic honorary society and was a member of the Nebraska Law Review from 1979-81. He obtained his bachelor of arts degree in 1978, also from the University of Nebraska—Lincoln, where he was selected as a member of Phi Beta Kappa.
Since his graduation from law school, Trev has focused his practice on real estate, bankruptcy, business planning, banking and commercial law. Trev is a frequent speaker at continuing education seminars on the issues of real estate, bankruptcy, foreclosure, debtor-creditor's rights, and collection law.
Trev and his wife have two children. Trev's interest in scouting was rekindled when his daughter and son joined scouts. Trev volunteers with his daughter's girl scout troop and serves as a cub scout pack committee chairman and has held a number of other leadership positions with his son's cub scout pack, including assistant den leader and treasurer. Trev and his children have also discovered shared interests in model railroading and computer gaming. Trev is also active in his church, serving as an elder, usher and committee member.
Trev's other interests include military history, war gaming, politics, home repair projects, and NFL football.
*Disclaimer: Neither the transmission nor the receipt of an e-mail communication will constitute or otherwise create an attorney-client relationship. We will not be your lawyers unless and until we have reviewed the case with you, decided to accept the case, and entered into a legal services contract with you. Communication by e-mail or use of the Internet cannot be assured of confidential treatment; therefore, any information you send to us via this website is transmitted at your own risk.
Practice Areas
Published Cases:
Deonarain v. New York Life Ins. Co., Not Reported in F.Supp.2d, 2005 WL 2002081, , D.Neb., August 18, 2005(No. 8:04CV466.)
Brandenburgh v. Waste Connections of Nebraska, Inc., Not Reported in N.W.2d, 2005 WL 1719670, , Neb.App., July 26, 2005(No. A-03-142.)
Burlington Northern and Santa Fe Ry. Co. v. Chaulk, 262 Neb. 235, 631 N.W.2d 131, 2001 WL 815578, , Neb., July 20, 2001(No. S-00-212.)
Allied Mut. Ins. Co. v. Midplains Waste Management, L.L.C., 259 Neb. 808, 612 N.W.2d 488, 2000 WL 802915, 42 UCC Rep.Serv.2d 296, , Neb., June 23, 2000(No. S-99-595.)
Thomas Lakes Owners Ass'n v. Riley, 9 Neb.App. 359, 612 N.W.2d 529, 2000 WL 781104, , Neb.App., June 20, 2000(Nos. A-99-401 to A-99-411, A-99-413 to A-99-415.)
Solar Motors, Inc. v. First Nat. Bank of Chadron (1996), 249 Neb. 758, 545 N.W.2d 714, 1996 WL 157626, 31 UCC Rep.Serv.2d 317, , Neb., April 05, 1996(No. S-93-622.)
Moulton v. Larson, Not Reported in N.W.2d, 1996 WL 106224, , Neb.App., March 12, 1996(No. A-94-500.)
C.S.B. Co. v. Isham, 249 Neb. 66, 541 N.W.2d 392, 1996 WL 4298, , Neb., January 05, 1996(No. S-94-186.)
Solar Motors, Inc. v. First Nat. Bank of Chadron (1995), 4 Neb.App. 1, 537 N.W.2d 527, 1995 WL 520008, 28 UCC Rep.Serv.2d 63, , Neb.App., September 05, 1995(No. A-93-622.)
Association of Com. Claimants v. Moylan, Not Reported in F.Supp., 1995 WL 795049, , D.Neb., January 05, 1995(No. 4:CV88-00690.)
Association of Commonwealth Claimants v. Moylan, 246 Neb. 88, 517 N.W.2d 94, 1994 WL 236593, , Neb., June 03, 1994(No. S-92-835.)
Association of Commonwealth Claimants v. Hake, 2 Neb.App. 123, 507 N.W.2d 665, 1993 WL 439598, , Neb.App., October 19, 1993(No. A-92-039.)
Weimer v. Amen, 235 Neb. 287, 455 N.W.2d 145, 1990 WL 67434, , Neb., May 11, 1990(Nos. 88-430, 88-652.)
Matter of Burgess, 106 B.R. 612, 1989 WL 131951, 21 Collier Bankr.Cas.2d 1310, , Bkrtcy.D.Neb., July 27, 1989(Bankruptcy No. BK87-1718.Adv. No. A87-0375.)
Nebraska State Bank v. Jones, 846 F.2d 477, 1988 WL 40656, Bankr. L. Rep. P 72,287, , C.A.8 (Neb.), May 03, 1988(Nos. 87-2269, 87-2270.)
Lease Northwest, Inc. v. Davis, 224 Neb. 617, 400 N.W.2d 220, , Neb., January 30, 1987(No. 85-519.)
Wilson v. Mason State Bank, 738 F.2d 343, , C.A.8 (Neb.), July 09, 1984(Nos. 83-2699, 83-2720.)
Ybarra v. Burlington Northern, Inc., 689 F.2d 147, , C.A.8 (Neb.), September 28, 1982(No. 81-1957.)