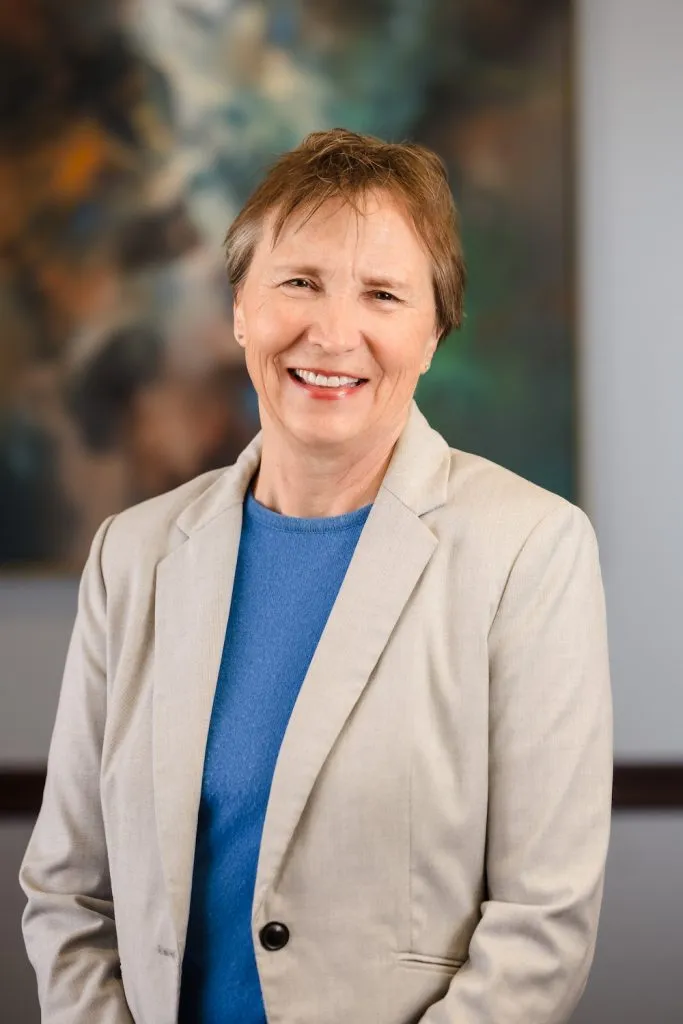 Following graduation from law school, Shirley Williams was a law clerk for Hon.  D. Nick Caporale on the Nebraska Supreme Court. Following that, she joined the Knudsen Law Firm and her primary area of practice is workers' compensation. She is a member of the Lincoln and Nebraska State Bar Associations, and the Nebraska State Bar Association Workers' Compensation Section. She has served on the Executive Committee of the Nebraska State Bar Association Workers' Compensation Section and has been elected to serve in several officer positions, including past service as the President of the Nebraska State Bar Association's Section of Workers' Compensation Attorneys. Shirley also holds the highest Martindale-Hubbell peer review rating by fellow attorneys of AV Preeminent.  She has handled workers' compensation cases throughout her career and is very familiar with the medical community, court system and fellow attorneys who practice in the workers' compensation system.
Shirley was born in Sargent, Nebraska, and graduated cum laude from the University of Nebraska at Kearney with a degree in journalism.
She received her J.D. degree with distinction from the University of Nebraska College of Law and was Executive Editor of the Nebraska Law Review, a member of the Order of the Coif national legal honorary, and the recipient of American Jurisprudence Awards in evidence and remedies and damages.
Shirley's community activities have included service on church committees as well as currently serving on the Board of Directors of the Interfaith Housing Coalition. She and her husband, David, have two grown children.
Practice Areas
*Disclaimer: Neither the transmission nor the receipt of an e-mail communication will constitute or otherwise create an attorney-client relationship. We will not be your lawyers unless and until we have reviewed the case with you, decided to accept the case, and entered into a legal services contract with you. Communication by e-mail or use of the Internet cannot be assured of confidential treatment; therefore, any information you send to us via this website is transmitted at your own risk.
Appellate Cases:
Fritzen v. Fritzen Trucking, Nebraska Court of Appeals, No. A-11-534 (March 27, 2012)
Barrett v. Keep Kimball Beautiful, Nebraska Court of Appeals, No. A-11-587 (Dec.27, 2011)
Wyatt v. Drivers Management, Inc., Nebraska Court of Appeals, No. A-10-1130 (Oct. 18, 2011)
Frosh ex rel. Rohrbouck v. North Platte Public Schools, 2006 WL 3388642, (D.Neb. Nov 21, 2006)
Harders v. Grand Island Public Schools, 2006 WL 2528524, (D.Neb. Aug 31, 2006)
Morin v. Industrial Manpower, 687 N.W.2d 704, (Neb.App. Oct 19, 2004)
Zavala v. ConAgra Beef Co. (2003), 655 N.W.2d 692, (Neb. Jan 24, 2003)
Zavala v. ConAgra Beef Co. (2002), 647 N.W.2d 656, (Neb.App. Jun 25, 2002)
Rafael-Loarca v. Platte River Byproducts, Inc., 2001 WL 880698, (Neb.App. Aug 07, 2001)
McDonald v. DeCamp Legal Services, P.C., 619 N.W.2d 583, (Neb. Dec 01, 2000)
McDonald v. Decamp Legal Services, P.C., 2000 WL 249769, (Neb.App. Mar 07, 2000)
Bargmann v. Soll Oil Co., 574 N.W.2d 478, (Neb. Feb 13, 1998)
Belt v. Burlington Northern R. Co., 1997 WL 411197, (Neb.App. Jul 15, 1997)
Bowen v. Monahan, 163 F.R.D. 571, (D.Neb. Oct 04, 1995)
Blakely v. Farmland Foods, Inc., 2 Neb.C.A. 357, (Neb.App. Feb 02, 1993)
Collett v. Olson Bros., Inc., 2 Neb.C.A. 287, (Neb.App. Jan 26, 1993)
Turek v. Saint Elizabeth Community Health Center, 488 N.W.2d 567, (Neb. Sep 11, 1992)
Pete Morin v. Industrial Manpower, 13 Neb. App. 1, 687 N.W.2d 704 (2004)
Maria Zavala v. ConAgra Beef Co. (2003), 265 Neb. 188, 655 N.W.2d 692 (2003)
Maria Zavala v. ConAgra Beef Co. (2002), 11 Neb. App. 235, 647 N.W.2d 656 (2002)
Olga Chojolan v. Armour Food Co., No. A-00-1184 (2001)
Pedro Rafael-Loarca V. Platte River Byproducts, No. A-01-054 (2001)
Robert McDonald v. DeCamp Legal Services, PC, 260 Neb. 729, 619 N.W.2d 583 (2000)
Terry Bargmann, Janet Lutjen, and Kevin Tonjes v. Soll Oil & Bargmann Corner Service, 253 Neb. 1018, 574 N.W.2d 478 (1998)
Donald Turek v. Saint Elizabeth Community Health Center, 241 Neb. 467, 488 N.W.2d 567 (1992)
Thomas Morrissey v. St. Paul Property and Casualty Ins. Co., 238 Neb. 536, 471 N.W.2d 733 (1991)
Claude Weimer & Association of Commonwealth Claimants v. Paul Amen, et al., 235 Neb. 287, 455 N.W.2d 145 (1990).
Morrissey v. St. Paul Property and Cas. Ins. Co., 471 N.W.2d 733, (Neb. Jul 05, 1991)