*Disclaimer: Neither the transmission nor the receipt of an e-mail communication will constitute or otherwise create an attorney-client relationship. We will not be your lawyers unless and until we have reviewed the case with you, decided to accept the case, and entered into a legal services contract with you. Communication by e-mail or use of the Internet cannot be assured of confidential treatment; therefore, any information you send to us via this website is transmitted at your own risk.
Jeanelle Lust is of counsel the Knudsen Law Firm where she has practiced since 1994. Jeanelle  focuses on litigation and employment law. She has represented clients in such varied lawsuits as catastrophic burn injuries, professional malpractice, constitutional tax disputes, automobile accidents, employment law disputes, water disputes and bankruptcy. Jeanelle also handles all aspects of Nursing Home litigation, including arbitration, and defends several school districts in the state.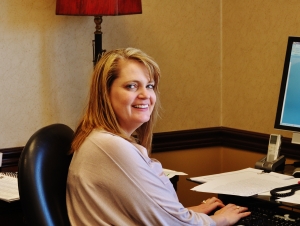 Jeanelle is a native of Madison, South Dakota. She graduated cum laude from Augustana College in Sioux Falls, SD in 1991. She attended Creighton University School of Law, graduating summa cum laude in 1994. Jeanelle received the Faculty of Law Highest Triennial Average Award for having the highest grade point average after each year in law school, and was Assistant Editor of the Creighton Law Review.
Jeanelle is a member of the bar in South Dakota and Nebraska .
Jeanelle co-authored Chapter 20 of the Eighth Circuit Appellate Practice Manual, "Review  by Extraordinary Writ in Civil Cases," and wrote the Responsive Motions and Pleadings, chapter for the Nebraska Civil Practice and Procedure Manual (2013 and 2015 Editions).
Jeanelle is a charter Fellow in the Litigation Counsel of America and a Fellow in the Nebraska State Bar Foundation.  She has been designated a Super Lawyer.  Jeanelle has been active with the Robert Van Pelt Inns of Court, the Lincoln Children's Zoo, Capital Humane Society, Community Services Fund of Nebraska and the Wilderness Ridge Home Owners Association.  Jeanelle was appointed to the Lincoln/Lancaster County Planning Commission by Lincoln Mayor Chris Buetler. She was also appointed by the Lancaster County Board to serve on the Indigent Defense Council.
Jeanelle continues to help write and update the Model Policies and Forms for Nebraska Employers and the Nebraska Human Resources Manual. These books explain employment law using plain English and provide model polices and forms useful for Nebraska employers. Contact us or click on the book icon below to order your copy.
Practice Areas
Published Cases:
Guerra v. GGNSC Scottsbluff, USDC 412CV3005 (3/26/12)
Wright v. GGNSC Holdings LLC, SD Supreme Court (12-28-11)
Kiplinger v. Nebraska Department of Natural Resources, No S-10-296 (Neb. Sup. Crt. 2011)
Frenchman Cambridge Irrigation District v. Nebraska Department of Natural Resources, No S-10-608 (Neb. Sup. Crt. 2011)
Osborn v. BNSF Railway, 2011 U.S. Dist. LEXIS 41678; 14 Accom. Disabilities Dec. (CCH) P14-201 (2011)
Bonifas v. City of Lexington, 2011 Neb. App. LEXIS 47 (Neb.App. 2011)
Natural Gas Pipeline of America, v. E Energy Adams, LLC, 2011 Neb. App. LEXIS 9 (Neb. App. 2011)
Jones v. GGNSC Pierre LLC, 684 F. Supp. 2d 1161; 2010 U.S. Dist. LEXIS 9375, (D.SD 2010)
Ivey v. Gibson, 2009 U.S. Dist. LEXIS 10842, (D. Neb. 2009)
Koricic v. Beverly Enterprises-Nebraska, Inc., 278 Neb. 713; 773 N.W.2d 145 (2009)
Rohrbouck v. N. Platte Pub. Schs, 2007 U.S. Dist. LEXIS 34544, (D. Neb. 2007)
Frosh v. N. Platte Pub. Sch, 2006 U.S. Dist. LEXIS 84973, (D.Neb. 2006)
Bashus v. Plattsmouth Cmty. Sch. Dist., 2006 U.S. Dist. LEXIS 56565 (D.Neb. 2006)
Harders v. Grand Island Pub. Schs., 2006 U.S. Dist. LEXIS 62511 (D. Neb. 2006)
Beers v. Hopkins, 2002 U.S. Dist. LEXIS 4442 (D.Neb. 2002)
Garey v. Nebr. Dept. of Nat'l Resources, 759 N.W.2d 919, 277 Neb. 149 (2009)
Dahlgren v. First National Bank of Holdrege, 533 F.3d 681 (8th Cir. 2008)
Dahlgren v. First National Bank of Holdrege, 2007 WL 397009 (D. Neb. 2007)
Damrow v. Murdoch, A-05-1200, 15 Neb. App. 920 (2007)
Schiefelbein v. Walthill Public Sch., 17 Neb. App. 80, 758 N.W.2d 648 (Neb. App. 2008)
Shipler v. General Motors, 271 Neb. 194 (2006)
Pennfield Oil Company v. Winstrom, 272 Neb. 219 (2006)
Allied Mut. Ins v. Midplains Waste Management, 259 Neb. 808 (2000)
Thomas Lakes Owners Assn v. Riley, 9 Neb.App 359 (2000)
Ruble v. Reich, 259 Neb. 658 (2000)
McCoy v. Solid Waste Agency, 1999 WL 722963 (1999)
Holste v. Burlington Northern R. Co., 256 Neb. 713 (1999)
Hoover v. Burlington Northern R. Co., 251 Neb. 689 (1997)
Humphrey v. Burlington Northern R. Co., 251 Neb. 736 (1997)
Young v. Eriksen Const. Co., 250 Neb. 798 (1996)
U & I Sanitation v. City of Columbus, 205 F.3d 1063 (8th Cir. 2000)
Francisco v. Burlington Northern R.R. Co., 204 F.3d 787 (8th Cir. 2000)
Gatz v. Ponsoldt, 271 F.Supp.2d 1143, 2003 WL 21517823, RICO Bus.Disp.Guide 10,496, , D.Neb., July 07, 2003(No. 4:02CV3113.)
Lee Sapp Leasing, Inc. v. Ciao Caffe & Espresso, Inc., 10 Neb.App. 948, 640 N.W.2d 677, 2002 WL 337748, , Neb.App., March 05, 2002(No. A-00-897.)